Land Rover Maintenance Schedule

If you've purchased a Land Rover in San Antonio, or you are currently shopping for a new Land Rover model in the San Antonio area, you know that it's a big investment. One of the ways you must protect this investment is with routine maintenance at your local authorized Land Rover Service Center, starting every 6 months/5,000 miles (whichever comes first).
Learn more about the recommended Land Rover maintenance schedule below, but be sure to consult your owner's manual for model-specific information. Then take advantage of our rotating service specials at Land Rover San Antonio to save on your next scheduled service visit!
5,000-Mile Service
Every 5,000 miles (typically about six months), perform the following vehicle maintenance checks:
Engine oil and air filter – change if necessary
Tire pressure, tread, and wear and tear
Car battery and cables
Chassis lubrication
10,000-Mile Service
These are a few car maintenance checks that should be done every 10,000 miles, or every 12 months–whichever comes first:
Coolant levels
Transmission fluid levels
Steering and suspension
15,000-Mile Service
The standard maintenance on Land Rover model at 15,000 miles includes replacements of the crankcase oil filter and cabin air filter, as well as inspections of the:
Drive belts
Exterior lighting
Exhaust system
Hood latch assembly and door checks
Parking brake and brake system
Power steering system fluid levels, cooling system fluid levels
On-board diagnostic system
Underbody
Windshield wiper blades, windshield washer fluid levels
Wheels and tires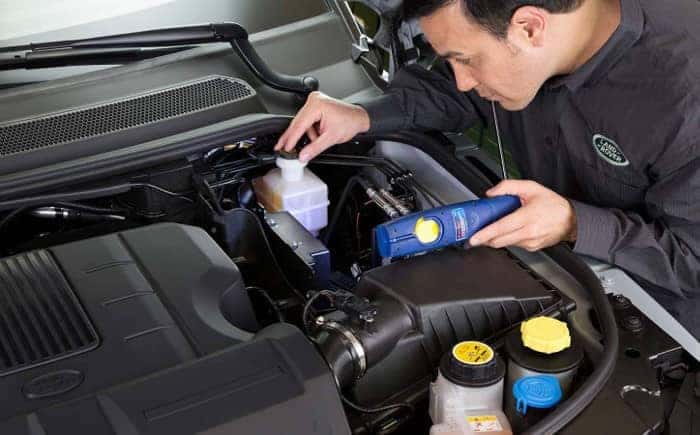 30,000-Mile Service
At 30,000 miles, you'll get all of the 15,000-mile maintenance, 10,000-mile maintenance, and 5,000-mile maintenance, as well as:
Brake line and hose inspection, brake system fluid change
Driveshaft inspection
Fuel line inspection
Seat belt restraint system inspection
Steering system and power steering hose inspection
Suspension inspection
Wiring harness inspection
60,000-mile Service
After hitting 60,000 miles, you should bring in your Land Rover to your local service center, near San Antonio to get all the 5,000, 10,000, 15,000, and 30,000-mile services. Then bring in your vehicle every 15,000 miles for the recommended inspections and replacements, including oil changes, brake inspections, and tire replacements.
Get Land Rover Maintenance at Land Rover San Antonio
Land Rover offers a prepaid maintenance plan, which includes many of the services mentioned above. Learn more about this plan and the Land Rover maintenance schedule at our service center in San Antonio. If your SUV is due, you can easily schedule service online. Rely on Land Rover San Antonio for more Land Rover service information, like why your steering wheel is shaking, and more.